Employee Spotlight – Viktoriya Atanasova
7 months ago
Getting to know Viktoriya Atanasova, Tech Lead at matrix Eastern Europe.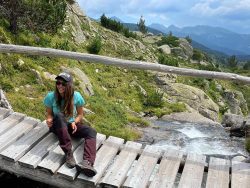 1. How did you choose your profession?
I had been studying drawing when I was very young, then I tried accounting but it didn't feel right as well. I wanted to have a bigger challenge, a more interesting path. I've always loved Mathematics, I prefer using logic to having to remember facts. One day a friend mentioned software development and I immediately knew this is my thing. He kept saying that I needed to practice a little bit and to try some things, but no – it's been decided, I felt it. Creating my first little working program made it feel real. Then I applied for a computer science degree at Sofia University, also started to attend some additional programming courses and I really knew that this is what I want to do for a living.
I chose this profession because I saw an opportunity to grow personally and professionally in it. It developed things like self-confidence, learning quickly new technologies and switching between them, working on a dynamic project, being flexible, taking more responsibility, and even some useful leadership skills. It has everything I like – logic, thinking, different challenges with each task, self and professional development, it is never boring.
2. How did you choose to work at matrix Eastern Europe?
I've always wanted to participate in an early stage of a technical process. I was offered an interesting project from scratch, I liked the concept of the project, and its domain, I liked the people I talked to and it felt like a match. It came with the possibility of making decisions regarding technologies, infrastructure, and more or less everything related to the project.
3. How does your day go?
I prefer to do the hard work that requires deep logical thinking and straightforward work in the morning, before the meetings- before people have questions and my attention is needed. Therefore, I usually start the day by doing code reviews of the other team members. Then there are usually some meetings around noon, at least on the Daily synchronization with the team, and there we sometimes share our knowledge or discuss ideas for improvement.
4. What is the best thing that you like about your job?
There are a lot of things I like about this job like the fact that I can constantly learn and develop – technologies, best development practices, management styles, and teamwork, and share knowledge and experience with different people with different views literally every day. But what I like the most is the fact that I took part in many different stages of product creation, it is fascinating to observe, participate, and be involved.
5. How do you manage to maintain a good balance between your professional and personal life?
I balance each day individually because the workload is different. Some days there is more work and less time for me, other days are the opposite. I try doing some workouts which help me personally but also to be more concentrated and efficient at work. I like walking in the neighborhood any time of the day when I need to clear my head and other similar things, they charge me with energy. Outside of working hours I like spending my time with friends, doing sports, having beers, and having fun. When I need a total restart, I prefer going to the mountains, it really helps me refresh my mind off everything.
6. Tell us what is the main product that you're working on and what are your responsibilities.
I am currently working on Holisticyber's project SAGE – a cyber defense web platform. Our team develops it from end to end – frontend, backend, database management, infrastructure, processes, and so on. My responsibilities include implementing features, bug fixing, code reviews, taking decisions about the infrastructure and the code, making optimizations, application security, and making sure that team is focused and motivated.
7. What are the biggest challenges you are facing in your work and how do you overcome them?
In this project, since it is the new and only product for this company, one of the challenges is to get clear requirements that won't change every other day. The reason for that is that they are coming from different people with different perspectives and expectations. The way I try to overcome them is by asking a lot of questions, and arranging meetings to discuss as much as possible in advance.
8. What are you most proud of?
That I am not scared to step out of my comfort zone, take more and more responsibilities, learn new things, solve hard problems, and even make mistakes.
9. What are your plans for the future?
I believe that a person should never stop learning things in general, so my plans are to keep on improving and developing myself as much as I can. Since I love variety, I see myself involved in different aspects of project development and management, as a Developer and Team Lead at the same time. I would like to grow professionally but also to feel satisfied with what I am doing.
10. What tips can you give to a person who would so like to choose your profession?
I think the one thing that helped me the most through the years is to believe that everything is possible, there are no tasks that you cannot handle. Some things might require more work than others, and you might feel useless, but the feeling when you manage to achieve your goals is unbelievable – the harder it is, the better the feeling.